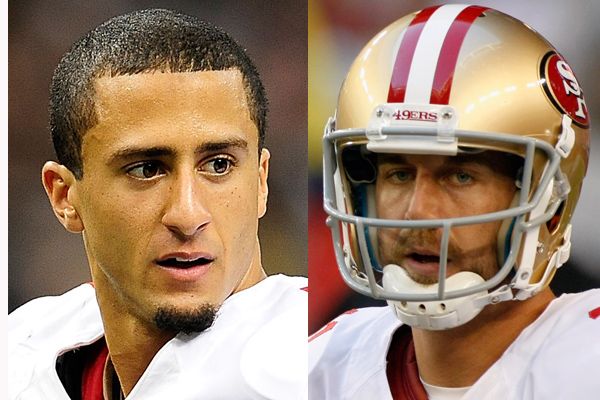 Photo from the web
Look! Here's proof that I don't care only about the Saints! But, honestly, I don't care about the 49ers much anyway. But, this story has been bothered me for awhile now.
First, Colin Kaepernick is a good quaterback. I'll give him that. But, seriously? After all the commotion in the off season concerning Alex Smith, we are subjected to this? Hopefully Smith knew deep down when the 49ers "went to watch Peyton Manning work out but weren't really serious about it" that he wasn't as valuable to the 49ers as he thought. That was proof that they were looking for someone better than he was all along. Ironically, they had what they seem to believe is the better quaterback all along. He was just hiding in the shadows behind Smith.
I understand that Smith got a concussion and had to sit out a week. So, you put in your back up and he does good against a team that wasn't playing up to par that week. Lucky? Perhaps. Is he better than Smith? Not enough evidence to conclude. At least not in my opinion. Then Smith is cleared to play. But, Coach decides that Kaepernick is his man. So, he starts against the Saints. Where 2 of your touchdowns were by the defense and the Saints have the 32nd ranked defense in the league. You win by 10. Enough evidence yet to conclude that Kaepernick should be the starter? No. Then we had to wait 3 days to see who would start this week. Came out it is Kaepernick. What a surprise, right?
Alex Smith has done nothing to warrant being benched. He got a concussion. He sat out until he was cleared. He hasn't even been given the chance to deserve being demoted. I compare this to the Green Bay Packers from last year. They sat Aaron Rodgers the last game of the season. They let the back up play who went on to set franchise records. But, did they say "Wow! Flynn did fantastic this week! Let's try him again next game and see if he's still as good." No! He sat behind Aaron Rodgers through the playoffs and then became a free agent. Green Bay knows who their franchise quaterback is and they stand behind him until he proves he needs to be sat. Too bad Alex Smith doesn't have that same loyalty.