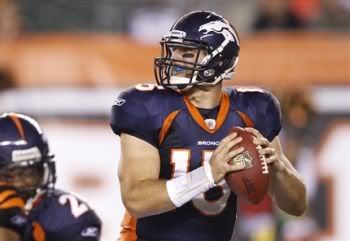 Saturday night after the Broncos Divisional Playoff Round Loss to the New England Patriots, my facebook was flooded with hate for Tim Tebow. On Sunday, I asked for the Tebow haters to come out and give me a reason why they hated him. I didn't want a "just because" answer, I wanted a real reason. I could understand if you were are fan of San Diego, Kansas City or Oakland because they are division rivals. I am open about the fact that I hate the Atlanta Falcons since they are my team's rivals. I also hate the other two teams in the NFC South, the Bucs and the Panthers. Sadly only one person on facebook responded negatively and one person on twitter. Apparently, the only reason anyone hates Tebow is "just because".
I am a LSU and University of Miami fan. Tim Tebow went to the University of Florida. LSU and UF are SEC rivals. Miami and UF are rivals within the state of Florida. I pretty much was against Tebow his entire college career. I was even one of his doubters when the NFL draft came up. But, really how much can I deny now?
I can't continue to hate players from rival colleges once they enter the NFL. I would hate several of my favorite players from my own favorite NFL team. Now, no secret, you play for Atlanta then you are dead to me. Even if you came from my favorite college team. I will despise you until you leave Atlanta. Except Roddy White. I'll hate him forever but that's because of the dumb shit he says (that's another blog entirely!)
Everyone said Tim Tebow would not make it as a quarterback in the NFL. I pretty much agreed. I remember right before the draft, he said he'd even play tight end if that's what a team needed him to do. How can he not catch attention by showing that much dedication to the sport of football? He got drafted to the NFL. I figured he'd disappear into the back burner. I was wrong. He still had critics everywhere. "Tebow will never make it." "Tebow will never be a starting QB." Why keep reminding him he was the back up to the back up? How many other back ups were getting this attention? Can anyone name the back up for any team other than their own? Then came the criticism because he is open about his Christianity. I know he'd receive much more criticism if he were Muslim, etc., so I seriously have to wonder why the criticism for Christianity. Isn't that what the majority of the people in this country want? Spokespeople for the religion? I'm so confused with the 360's being done.
Never mind his religion, he has publicly declared he's a virgin. In today's society how many people can say that? I can't say I was a virgin at his age. Heck, I had already had a kid by his age. Now, who do I want my kids looking up to? Lindsay Lohan and Britney Spears or Tim Tebow. No brainer. Tebow all the way. As a home schooling parent, he is a wonderful example for us. He's educated, smart, worked hard, went to college, made something of himself. Home schooled or not, isn't this what we want our kids to inspire to do? This year so many juniors are declaring for the draft instead of staying for their senior year. What role model would we prefer for our kids? "I graduated from college." or "I left school early in hopes of making it in the NFL." While he is not the only athlete to finish college before entering the draft, he is in the media more than others. It's time to have the positive ones in the spotlight. Would we rather have the players involved in drugs, sex scandals, guns, dog fighting, illegal activity, etc in the spotlight or little "holy roller" Tim Tebow?
While maybe I don't want to hear about Tim Tebow all day every day, it is a refreshing to hear about the good and not the bad. The one standing up for his beliefs and not following the wrong path that so many athletes follow. It's refreshing to see an athlete whose first thought with their paycheck isn't a house or car or parties but a children's hospital in the Philippines.
Now, past his character let's actually go to football. The Broncos were 1-4 with Kyle Orton as QB. After the bye week, Tim Tebow started. His record as a starter was 7-4. The Broncos finished the season 8-8. Before the bye week, the Broncos were at the bottom of the division. After Tim Tebow took over, they went on to win the division and 4th seed in the AFC playoffs. Labeled an underdog, the Broncos were expected to lose in the first round against the Steelers. Surprisingly, they didn't. Tebow again did what so many said he couldn't. While he may not be the greatest QB out there, he has what so many players are missing these days. He has heart and dedication. Some players attitudes are "I'm the best there is" (re: Cam Newton). But, Tebow is a "I'm willing to learn all I can to make myself better." I can't hate a humble guy.
One response I got on twitter was that Tebow was "overrated". I'm not sure how to take that. It seems everyone is talking about how bad he is and how he'll never make it. How is that making him overrated? Is he overrated because of his personal beliefs? I wouldn't call him overrated because of that. I admire him for it. It's tough to stand up for what you believe these days. He's not the only NFL player that is religious. Ram's MLB,
James Laurinaitis
tweets Bible verses frequently. After Saints' QB, Drew Brees, broke Dan Marino's record, he was seen praying in the locker room. Personally, I don't see Tebow as overrated. Possibly, he's underrated and not given the credit he probably deserves.
Not only should Tim Tebow be admired for his personal beliefs and his improving QB skills, but also for the motivation and inspiration he brought to the team. Several teammates have publicly stood behind Tim Tebow. Teams usually play better when they feel the unity. The QB is usually labelled the leader of the team. Look at Drew Brees. He is undeniably the leader of the Saints. The same is true for Tebow. This Broncos team, with a 1-4 record and no hope of playoffs, put their trust in this kid that the media had labelled almost a religious zealot and low-level QB. And together they took their division and won the first round playoff game.
Tim Tebow won more play off games this season than Aaron Rodgers did. Tebow has won more playoff games than Matt Ryan has. Don't hate on him just because you think he is over publicized. I would rather hear about him than the evil in the world. Besides, 99% of the sports media is talking negative about him, so doesn't that make the haters happy? In every single Eagles game there is at least 5 references about Michael Vick and dog fighting. Even if he's not playing! During every single Saints game, there is at least 5 references about Katrina. Really? I'd rather hear about Tim Tebow visiting children's hospitals than more Katrina references.

Leave poor Tebow alone. Want to crucify a football player? Pick one who has done nothing positive to be in the spotlight.