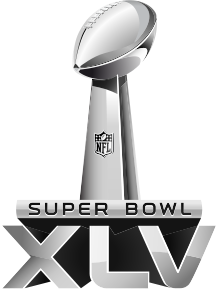 **PLEASE note that these are my predictions only! You don't have to agree with them, but please don't get offended if I don't think YOUR team is going to make it.**
I am making these predictions based off the first 3 weeks of the regular season. But, for the record I did predict Super Bowl XLIV in Week 2. I guess we'll know in February 2011 how accurate I am.
I am predicting the finishing order of every division, the wild cards, the NFC and AFC champions and the Super Bowl Champion.
North
1)

Pittsburgh Steelers **
1)

New England Patriots **
West
2)

San Diego Chargers ***
**Division Winners

- Pittsburgh Steelers, New England Patriots, Kansas City Chiefs, Indianapolis Colts
***Wild Cards

- San Diego Chargers, Houston Texans
AFC Champion - Pittsburgh Steelers
Pittsburgh and Kansas City are both at 3-0 currently. While I do not see either of them going undefeated this season, I see them both winning their divisions. Pittsburgh has shown that they are a team to watch even without their super bowl winning QB. For Kansas City, this seems like an unlikely chance; as they are up against San Diego and Denver in their division. Phillip Rivers and the Chargers will come up just a little short and will still keep Kyle Orton and the Broncos from the top 2 spots in their division. However, the Chargers will still manage to come in as a wild card spot. The AFC East was a hard decision to call but I see Tom Brady and the Patriots coming out on top. Miami will improve a great deal and come in second; the Jets will suffer throughout the season and come in third. In the AFC South, Peyton Manning and the Indianapolis Colts will improve and again win the division. Houston will continue to do well and come in second followed by the Titans and the Jaguars. Houston will gain a wild card spot in the AFC. Ultimately, I believe it will be the Pittsburgh Steelers that represents the AFC in the Super Bowl.
1)

Philadelphia Eagles **
**Division Winners
- Chicago Bears, Philadelphia Eagles, Seattle Seahawks, New Orleans Saints
***Wild Cards
- Green Bay Packers, Atlanta Falcons
NFC Champion - In my heart, I want to say the New Orleans Saints. But, I believe in my mind, that it will be the Chicago Bears.
In the NFC North, I believe the Bears will not remain undefeated but will ultimately win the division. Green Bay will be second and will get a Wild Card spot. Also, I could have these reversed but either way both teams will be in the playoffs. In the NFC East, it was a tough call. Michael Vick may be Philly's saving grace this season; Donovon McNabb and Mike Shanahan will help turn Washington around; the Giants will remain constant; and Dallas will finish, maybe not with the record they want but with a respectable record. The NFC East will be a good division this season in regards to competition. There is no real stand out or a real under dog (i.e. Cleveland, Detroit, etc.). I believe that Philly will come out on top as the division champ. If you had asked me about 2 months ago who I thought was going to win the NFC West, I would've told you San Francisco without hesitation. Now, not too sure on that one. I am choosing Seattle to take the West. Even without Warner, Arizona will finish second and San Francisco will take 3rd. Although Sam Bradford will be a good fit for the Rams, it will not be enough to keep them from the bottom of the division. In the NFC South, I believe New Orleans will come out of their slump and play like the reigning Champions should. They will finish the season as the NFC South Champion. Atlanta will finish second and clinch a wild card spot. Tampa Bay will be 3rd and Carolina will finish last. In the end, Chicago will be representing the NFC at the Super Bowl.
And the winner will be......... CHICAGO!
18 weeks from now, we'll know if I predicted even close to the actual outcome.